Our Foundations
In Pictou County, we are fortunate to have support from two very important institutions: The Aberdeen Health Foundation, and the Sutherland Harris Memorial Hospital Foundation. Both foundations provide generous support to health care programs annually and have financially contributed to Healthy Pictou County's efforts to attract and retain medical professionals and students to the county.
Aberdeen Health Foundation
The Aberdeen Health Foundation was established in 1986 to support enhanced medical equipment and education for staff at the Aberdeen Hospital. While this remains the central focus, the Foundation has expanded its funding priorities in recent years to include mental health and community-based initiatives that promote population health.
The Aberdeen Health Foundation has invested just under $30 million to enhance health care in Pictou County since its inception. The organization's $1-1.5 million annual investment is funded primarily through income generated by endowed funds. The Foundation is dedicated to directing resources to opportunities most likely to have a positive, long-term impact on the health of our community. For updates, news and to learn more about the Aberdeen Health Foundation, please visit aberdeenhealthfoundation.com
Sutherland Harris Memorial Hospital Foundation
The Sutherland Harris Memorial Hospital Foundation (SHMHF) was established in 1993, with its main focus and emphasis being to support the Sutherland Harris Memorial Hospital (SHMH). Generally, one half of the foundation's yearly funds are designated to SHMH requests such as providing Wi-Fi to the Restorative Care Unit, offering to help with retention and expansion of the dialysis unit, and purchasing new, key equipment for the physiotherapy department.
The SHMHF has provided financial assistance to the Bright Smiles dental project, and assisted with a wheelchair lift and hearing loop system at the deCoste Performing Arts Centre, among many other projects. The Foundation also supports students at Pictou Academy and Northumberland Regional High School who are entering health-related fields in university with a bursary/grant program.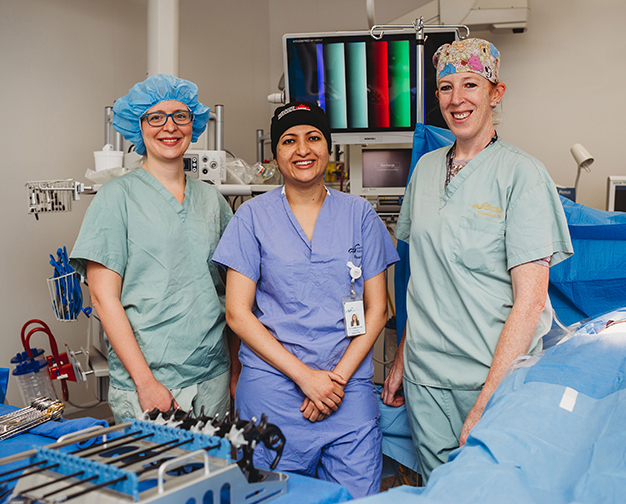 "To be able to practice in an environment that enables development is key," says Dr. Chakshu Sharma who recently moved to Pictou County. "I came because the Aberdeen Hospital had tools that will allow me to continue to grow." Read more: Aberdeen Hospital's New Surgical Suite Benefits Patients and Surgeons
Left to right: General Surgery Resource Nurse Shaunna Vaughan, RN; Dr. Chakshu Sharma; and Dr. Colleen O'Sullivan, Chief of General Surgery. Photo: Courtesy of the Aberdeen Health Foundation.