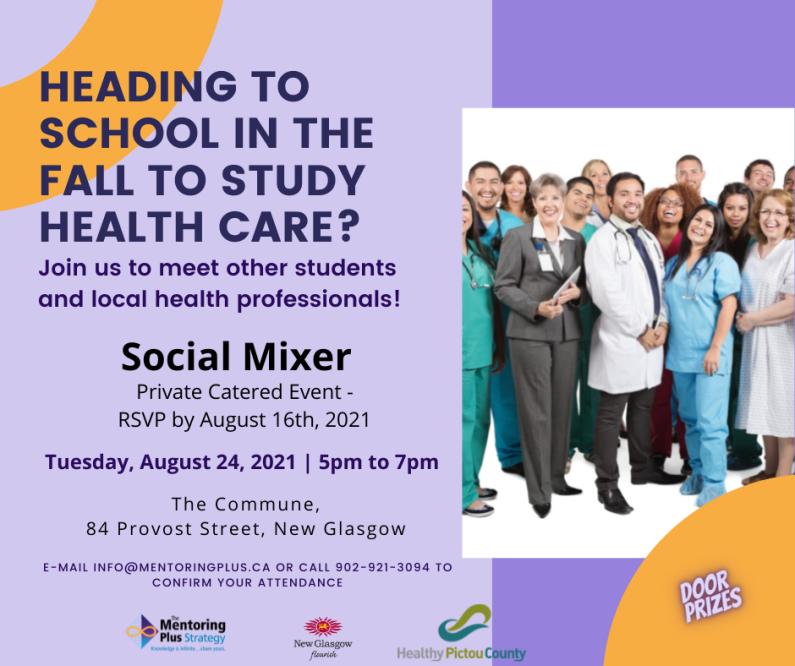 Health Sector Hopefuls Invited To Meet Experienced Mentors
The Mentoring Plus Strategy and Healthy Pictou County Co-Hosting Mixer
FOR IMMEDIATE RELEASE
August 4, 2021
NEW GLASGOW – The Mentoring Plus Strategy is partnering with Healthy Pictou County to host a social mixer to connect students working toward a career in healthcare with local professionals with experience in the sector.
"We know how valuable it can be to connect with someone with experience in the field you're entering, so we thought it would be beneficial to give students the opportunity to meet with mentors in an informal setting, as well as connect to other students aspiring to a career in the health care sector," said Geralyn MacDonald, Mentoring Plus Coordinator for New Glasgow/Pictou County region. "Our mentors are looking forward to it and we're so happy to partner with Healthy Pictou County to connect new and seasoned health care workers. We're encouraging new and returning health care students to call and register as soon as possible to secure their spot."
The social mixer is being held at The Commune on Tuesday, August 24th 5pm to 7pm and new and returning students are asked to RSVP by August 16th. The catered event is free of charge for students, but registration is required due to limited space. There will also be door prizes. Students are asked to e-mail info@mentoringplus.ca or call 902-921-3094 by August 16th to confirm attendance.
"We're so excited for new and returning healthcare students to have this opportunity to meet up in a relaxed atmosphere," said Nicole LeBlanc, project navigator for Healthy Pictou County. "It's so important that they know that the community is behind them, and we're thrilled to have the opportunity to have them meet other local students, and some people in their field as they head off to school in the fall."
-30-
The Mentoring Plus Strategy aims to provide seniors opportunities to contribute to the economic and social well-being of the Province of Nova Scotia. The Strategy encourages retirees to share their knowledge and skills, gained through career and life experience, to assist a variety of populations as they chart their future. Dalhousie University Faculty of Open Learning & Career Development is the Backbone Organization for The Mentoring Plus Strategy being implemented in the Towns of Kentville, New Glasgow, and Truro (Collaborating Organizations) and their adjacent municipalities. The project is funded by the Government of Canada New Horizons for Seniors Program.