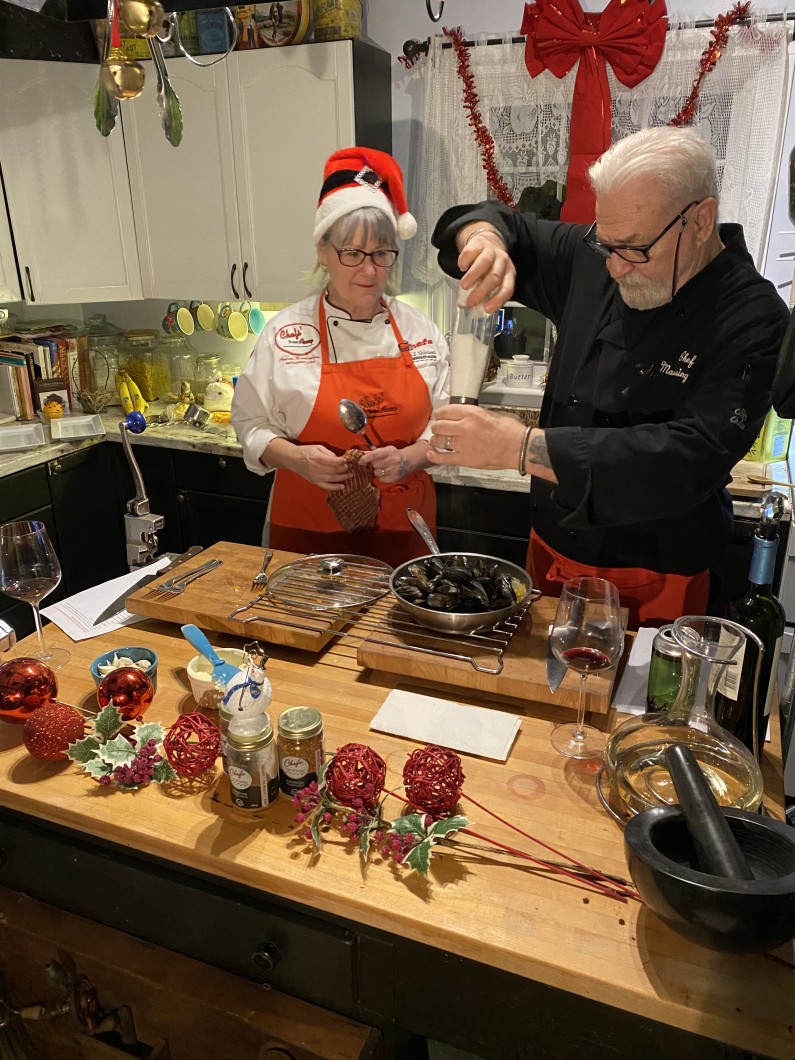 Pictou County is part of the North Nova Residency Program site - stretching from Antigonish through Pictou County, Tatamagouche and Truro and Colchester and Amherst in Cumberland County. Currently, we have 13 family medicine residents in their first and second year of the two-year residency program training to become family physicians.

Typically each year Doctors Nova Scotia likes to meet up with the residents to celebrate the upcoming holiday season. With the challenges of COVID in 2020, they needed a new plan. They also knew that many residents would not able to return home to their families, and they wanted to do something special.

They reached out to Healthy Pictou County with the idea to host an online cooking class - a safe way to bring our residents, preceptors and their families together online. Working with NSH and our community counterparts - we enlisted the help of local chefs Shawn and Andrea Massingham of Chefs from Away Catering in New Glasgow.
While the chefs prepared a locally-focused menu and ingredients, the other group got to work on a local gift basket -featuring items from each of our areas, and coordinating logistics. The community along with NSH worked to distribute the meal kits, and the gift baskets and on December 11th, over 40 of us came together online, cooking a delicious meal of mussels, haddock and smoked salmon, vegetables and a delicious berry croissant for dessert.

It was an evening of relaxation and fun, to bring some holiday cheer to our family medicine residents and their preceptors. It provided a welcome break at the end of the week, and a special way for the site to come together.
Further, this allowed communities to level outside dollars to the tune of almost $4,000 to inject into the local economy supporting local businesses with local ingredients and locally made products, and provided an opportunity for Doctors Nova Scotia, Dalhousie Family Medicine, and communities to work collaboratively on a very special event.

Check out the coverage from CBC of the successful events here in Pictou County and Lunenburg: https://www.cbc.ca/news/canada/nova-scotia/meals-to-celebrate-medical-residents-local-economic-spinoff-1.5847932