Come play in our sandbox (or the dozens of beaches we offer).
You'll always have something to do in Pictou County.
With year-round amenities, you'll always have something to do. Our beautiful beaches provide year-round outdoor fun, and are especially enjoyable during our 25° C summers (average July/August). In addition to our beaches, we also have a network of rivers, lakes, and waterways. Pictou County and our surrounding areas are home to a variety of developed trails and opportunities for hiking and walking. Arts and culture are thriving in Pictou County, with an expansive roster of celebrated and award-winning writers, artists, artisans, and performers.
Take in a performance or a festival
Looking to take in a performance? No need to venture outside of Pictou County for award-winning performers and shows. With venues like the deCoste Performing Arts Centre and Glasgow Square Theatre, there are a variety of
music, comedy, dance acts, and shows to catch. Our community is also home to a wide-variety of annual festivals and events that will help introduce you to our culture and heritage. We are very proud of our local theatrical, artistic and musical talents, and offer a wide variety of classes, programs, and courses to support your own artistic endeavours.
Our community is home to a wide-variety of annual festivals including many events that will help you feel right at home:
Hitting the right notes
In its 81st year, the New Glasgow Music Festival is a renowned annual event offering a stage to our communities' talented musicians and performers. Our community also recently saw the creation of the Centre for Music on Summit, a learning space for music teachers and students - an opportunity for your budding musician or singer to flourish.
Visit a museum
We love to celebrate and share our history, culture and heritage – an important part of who we are. Take in some of the history at the Northumberland Fisheries Museum and Pictou Lobster Hatchery, the Museum of Industry, The McCulloch House and Genealogy Centre, the Hector Heritage Quay, the Pictou County Military Museum, the Pictou County Sports Heritage Hall of Fame and the Carmichael Stewart House Museum – just to name a few. We're also within a short driving distance or a nice day-trip to other museums and attractions in Nova Scotia and neighbouring New Brunswick and Prince Edward Island.
Top-class facilities and competitive and recreational programming
Pictou County is home to the $38 million Pictou County Wellness Centre, which opened in 2012 and features two NHL-sized ice surfaces, a walking track, community conference space, as well as a full service 'Intermissions Cafe' and catering amenities. From hockey games, to walks around the track, to community events and concerts, the Wellness Centre is bustling with activity seven-days a week.
The Wellness Centre is home to the YMCA of Pictou County which operates the facility's fitness centre, gymnasium, day care, child-minding, aquatics centre, and other community events and activities. If you're coming to visit or relocating, ask about how we can introduce you and your family to our YMCA.
In Pictou County there are a variety of fitness classes and gyms including GoodLife Fitness, Simply for Life, Pictou County Yoga, True Potential Fitness, and other classes and courses hosted either privately, or through our extensive municipal recreation programs.
Pictou County is also home to a variety of sport facilities including the Pioneer Coal Athletic Field, home to the Pictou County Athletics Track Club, offering an 8-lane, 400 metre rubberized track, which has walking available between dawn and dusk, free to public. They also host a variety athletic opportunities for athletes from all over.
The Sobeys Sports Complex located in Stellarton offers a variety of year-round activities for all ages. The space is anchored by the artificial playing surface which hosts soccer, baseball, rugby, tennis, ultimate Frisbee and other sports practices, games and tournaments. The space also has a squash court, and hosts indoor paintball and family fun nights with bouncy castles and music.
Our community is also has many rinks and facilities hosting skating, gymnastics, basketball, hockey, soccer, rugby, yoga, pickle ball and other sports for recreational and competitive activity.
Get active in Pictou County
You name it, we've got it (and if not, we're willing to give it a try!)

Ranging from skating, hockey, gymnastics, dance, basketball, soccer, rugby, yoga, pickle ball, bowling, ultimate Frisbee, golf, squash, tennis, martial arts, roller derby, hiking, walking, snowshoeing, cross-country skiing, Nordic walking, sledge hockey, or water sports like kayaking, paddle boarding or boating from one of our many marinas, you won't sit idle in Pictou County with the wide variety of recreational and competitive opportunities for year-round activity, indoors and out.
Pictou County has a very active triathlete, running and cycling groups, and proudly hosts the annual Johnny Miles Running Event Weekend which consists of a Leisure Walk, Kids Fun Run, Student Run, 5km, 10km, Half Marathon, Full Marathon, Carbo Loading Social and Expo. To learn more, check out this piece: Pictou County doctors to cover registration fees for 50 Johnny Miles Marathon runners from 2018.
Ready to take get outside?
Pictou County and our surrounding areas are home to a variety of developed trails and opportunities for hiking and walking.
Trenton Park is another gem in Pictou County offering year-round activities including walking trails and hikes, snowshoeing, an outdoor swimming pool (summer only), and a variety of activities including movie nights and community events. It is a dog-friendly location (on leash) and offers the perfect backdrop to snap photos in all four seasons.
Overwhelmed by choice? We think that's a good thing.
To help you see how you and your family can get active in Pictou County, check-in with Active Pictou County, a cooperative partnership amongst our six municipal units to educate and motivate everyone to increase their daily physical activity to create a happier, healthier and active community, including activities like after school programs, trail development, active transportation and improving access to programs and services. You can also check out Highland Connect.ca which offers a robust online database for everything related to Recreation, Leisure, and Physical Activity in the Highland Region.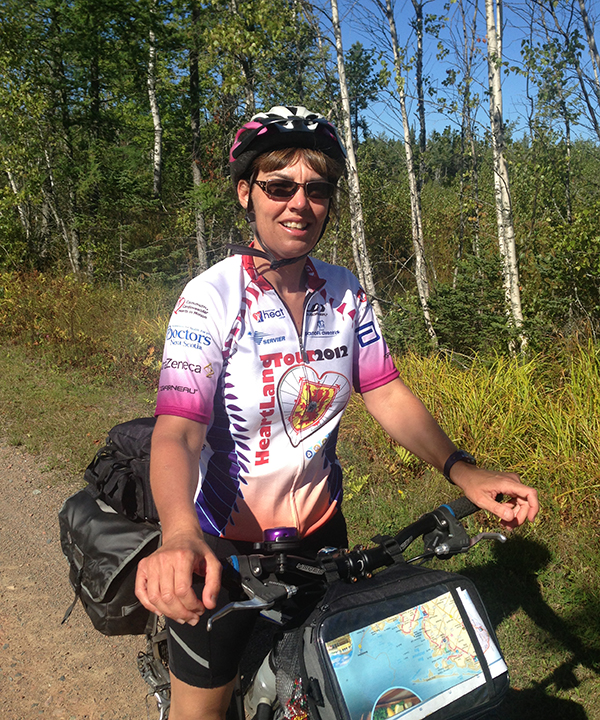 Dr. Pat Craig, Family Physician
Enjoying an active lifestyle, Dr. Patricia Craig, a family physician at the Westside Health Clinic shares what she loves about Pictou County by the numbers:
20: Never more than 20 minutes from a beach of my choosing
10: Minutes to Trenton Park where I can bike, hike, snowshoe and walk my dog.
5: Minutes to the East River for kayaking and getting on my paddle board
3: Days per week I enjoy cycling on quiet low-traffic roads where I feel safe, day or night.
2: Number of bands I play in (New Horizons and Pictou County Brass and Reed)
1: One great community to raise a family with access to the Farmer's Market, the deCoste Centre, Glasgow Square and nice restaurants.